Captain Robert Bonner Halley
Written by MaryBelle Brown
Robert B. Halley was one of the petitioners for Salado Masonic Lodge #296. His beautiful home sits on North Main St. Salado.
Robert Bonner Halley was born in Macon, Georgia on May 13, 1824. His wife, Lydia Anderson Ederington, was born in Memphis, Tennessee on January 12, 1831. The couple was married in Bradley County, Arkansas on August 1, 1850.
The Halleys came to Texas in 1852, first living in San Antonio, but because of threats from Indians, he moved his family to the Salado area in 1853. He is listed in the 1860 Census as living in Belton.
In 1859, Halley was serving as a Bell County Commissioner.
When the town of Salado was laid out in 1860, Halley purchased Lot #15 of the Robertson Addition and built a home, now know as the Halley House, on North Main Street. He and his wife moved with their eight children to Salado so they could be educated at Salado College.
In 1860. Halley presided over a meeting of Democrats in the largest meeting of its kind ever held in Bell County. He was elected as a delegate to the State democratic Convention which was held that same year in Galveston.
In 1861, Halley became a partner of Thomas Jefferson Eubanks, owner of a popular still located by his house back in a hollow near the Lampasas River (a site later to become known as Stillhouse Hollow) and the men began a milling and distilling operation, after purchasing the Shanklin flour and grist mills.
Halley was an early day "Ranger," a member of a small, mobile Indian fighting group. Such groups were well-known on the Texas frontier and provided much needed support to military actions and peace-keeping activities in Texas since the early 1830s.
During the time that rumors were flying about possible Secession, Halley organized a quasi-military group which he named "Salado Mounted Troops" and offered their services to the Secession Convention on Feb. 4, 1861 through Major E.S.C. Robertson, one of the Bell County delegates to the convention. This was the first such ranging company organized in Bell County and one of the first in the state.
Col. Henry E. McCulloch accepted the company for temporary services and ordered it to join other companies at a rendezvous near Camp Colorado in what is now Coleman County. After Camp Colorado was surrendered to Col. McCulloch's forces, they moved on to Ft. Chadbourne in Coke County. This garrison also surrendered and Captain Halley was placed in charge while Col. McCulloch went on to take Camp Cooper on the Brazos River.
After the three months' temporary assignment, Captain Halley's ranging company was automatically mustered out on May 10, 1861. Halley and part of his men returned to Salado while the remainder were accepted into Co. K 1st Texas Volunteer Cavalry, CSA.
Late in 1862, a cavalry company was organized and bivouacked at Salado after electing Robert Bonner Halley as captain. It became known as Co. G. Unorganized Bttn., Arizona Brigade Cavalry and later as Co. G Baylor's Regiment Texas Cavalry. Halley then served until the war was over in 1865.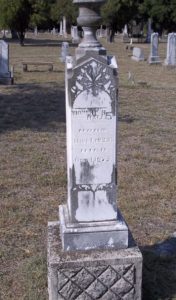 Robert Halley then returned to his family in Salado and re-entered community life.
In 1866, Halley's name appeared on a petition requesting a dispensation and charter for a Masonic Lodge in Salado. This dispensation was granted on June 13, 1867.
This became the third Masonic Lodge in Bell County. In the first report filed after the Lodge began, Robert Halley was listed as tiler.
On December 2, 1873, Robert Halley was elected as sheriff of Bell County. This came at a time when gangs of outlaws, horse thieves, cattle thieves and murderers hung out in Western Bell County. Robert Halley has been described by historians as being "diligent" in his duty of rounding up these outlaws. Eight or nine of them had been arrested and hailed in the Bell County jail on Pearl Street in Belton and were awaiting trial. While Sheriff Halley was away on official business, a group of unknown vigilantes, some say many as five hundred, stormed the jail and killed eight of
the prisoners.
These prisoners were hauled to the South Belton Cemetery and buried in a common grave but were later re-buried in single graves. Legends tell us that things were very quiet in Bell County for the next twenty years.
Robert Halley died while still in office on October 4, 1875. He is buried in a marked grave in Salado Cemetery.
Pioneer settle, family man, miller, distiller, farmer, rancher, Mason, public servant, elected official, county commissioner, sheriff, political activist, ranger, soldier, captain …. Robert Bonner Halley truly left an influence in Bell County and Texas History.